Pitched Up At The Edge Of Reality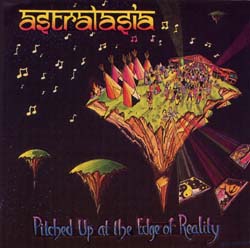 Release Date: 1993
CD Album - £10.00 :
Added to Basket
Vinyl Album - £10.00 :
Added to Basket
Cassette Album - £8.00 :
Added to Basket
Astralasia's previous album, their early single releases and their amazing live shows had combined to create a huge buzz around the band so expectations for this album were high. Swordfish and the band did not disappoint. This was another excellent release and like "Politics of Ecstasy" the first half features upbeat anthems such as "Celestial Ocean" and the ever popular "Unveria Zekt" - a tribute to Magma's Christian Vander. The second half contains some chill out classics, in particular the amazing "Principles of Pleasure".
Initial copies of the vinyl included a free 12" featuring the classic epic A.N.D.E. All Magick Eye editions of this album are now sold out and very rare especially the vinyl version with the A.N.D.E 12".