Snowman - Astralasia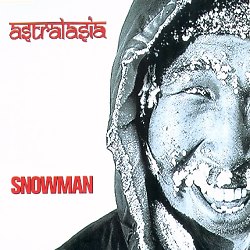 Release Date: 1998
Vinyl 12" - £5.00 : Added to Basket
CD Single - £5.00 : Added to Basket

Christmas Trance from Legendary Psych Trancers Astralasia
Soon to be available on digital for the first time!
Press Release and Digital Download Release Date : 5th December 2011

Over the years Astralasia have built up a huge following worldwide as pioneers in trance, psych, dub, chill and more.
A few years ago they decided to have a bit of fun and record a fun trance Christmas single. So they took some of their uplifting trance sounds and added sleigh bells, singing children and even a rap to produce this seasonal party anthem, 'Snowman'.
This single has never been available before as a download and features the full 'Nasal Red Mix' plus a radio friendly edit version. The single also features a rare mix of 'Your Calling' , the original of which was featured on the band's 'White Bird' album, and is an uplifting dancefloor anthem.
Tracklisting CD Single:
Snowman (4:02)
Snowman (Nasal Red Mix) (6:12)
Your Calling (Full Throb Mix) (5:36)
Tracklisting Vinyl 12":
Snowman (Nasal Red Mix)
Your Calling (Full Throb Mix) (5:36)